The Book of Blues & Aquas Paint Colors
With its close proximity to green, aqua paint colors are often considered refreshing – a characteristic borrowed from green's association with foliage and Mother Nature.
Learn About Aqua
Aqua Paint Colors
The Aqua Paint Palette is an interesting group of paint color hues. Neither primary nor secondary on the color wheel, aqua paint colors straddle the line between the vibrations of blue and green. As such, they borrow qualities from both paint palettes – the fresh and rejuvenating spirit of greens, and the calming and serene sense of blue.

See All Aqua paint colors


Pittsburgh Paints & Stains Expert Tip
---
Use accents of crisp white paint to complement and increase the restorative and calming powers of aqua paint colors.
---
Children's Rooms, Family Rooms and Bathrooms
Aqua Paint Colors
Pale and pastel shades of aqua paint communicate such refreshed energy in a mild and gentle delivery, creating a nurturing and encouraging feeling. For this reason, aqua paint color hues are ideal for children's rooms, family rooms, and bathrooms designed with a spa-like theme.

Explore More Aqua Paint Colors
Pittsburgh Paints & Stains Expert Tip
---
For spaces that have a restful and calming energy, muted, mid-tone aqua paint colors are the most suitable.
---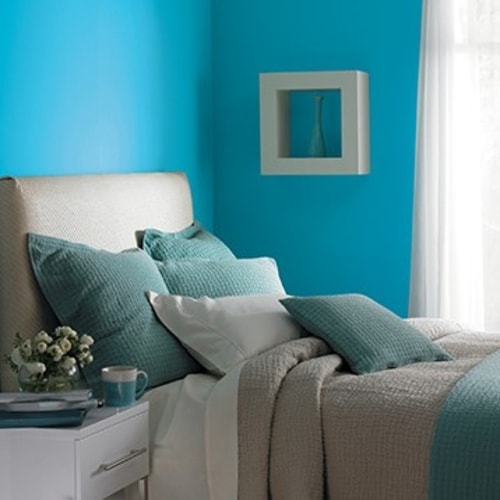 Bedrooms and Offices
Aqua Paint Colors
Aqua's closeness to blue makes aqua paint colors soothing and restful, ideal for rooms used for sleep or relaxation. Balancing both blue and green, aqua is the only paint hue that can promote energy as well as induce calm –making it perfect for offices and bedrooms.

View All Aqua Paint Shades
Pittsburgh Paints & Stains Expert Tip
---
In more classic settings, bright aqua paint colors make for fantastic front entryway doors. Bold aqua paint tones communicate worldly sophistication and freethinking. To add impact and timelessness, paint the door frame a soft white.
---
Exterior Aqua Paint Colors
Aqua Paint Colors
The aqua paint color palette has a wide range – from icy mint hues to twilight teal shades. The brightest and cleanest of aqua paint colors can be extremely energizing and create a sense of freshness, making them excellent choices for coastal communities and lakeside escapes.

FIND THE BEST EXTERIOR PAINT FOR YOUR PROJECT